Louie Simmonsin odotettu painonnosto kirja on nyt myynnissä. Kirja saapuu varastoon ensi viikon alussa.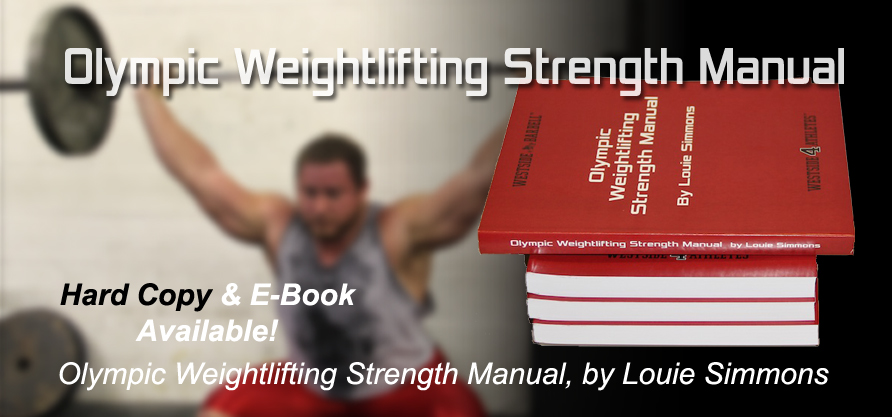 Olympic Weightlifting Strength Manual, Simmons.
I am writing this book on the development of special strengths to help raise individual lifts, specifically the snatch and the clean and jerk. The value of the top strength has been forgotten. If strength did not matter, then there would be no need for weight classes. But, indeed, there are weight classes and the weights are always larger in the next higher weight class.
Every discussion turns to technique in the classical lifts and special pulls. Great emphasis must be paid to technique in the early phases of training, hopefully, starting at age nine and up until 13-years-old. Basic specialization should occur at ages 14 to 15, specialization at ages 16 to 18, the phase of special- ization at 19 to 20, and nally, the high performance stage, beginning at 21-years-old.
Whatever age, technique must be taught in the beginning. A basic long-range plan for weight lifting was used by many East Bloc countries like the German Democratic Republic (GDR), Poland, and Bulgaria, whose training was greatly in uenced by the Russians. This is the technique I have followed with several young powerlifters. Kenny Patterson started at age 14 and was an open world record holder at 20-years-old. Joe McCoy started at 14 as well and was an open world champion at 19-years- old. David Hoff started at age 15 and has the all-time greatest powerlifting coef cient at 24-years-old.
The Westside system is basically from the former Soviet Union along with our own special exercises for powerlifting. Ninety-nine percent of the training advice comes from the translations of Andrew Charniga Jr. and his collection of weightlifting yearbooks plus many others. I paid great attention to the training of the strongest lifters from the Dynamo club. In an article by I.N Abramovsky in the 1985 yearbook entitled Dynamics of a Weightlifter, he states the most important quality of a weightlifter is strength. While the article is about moving up in a weight class to achieve new records, our top all- time female lifter has broken more than 30 all-time records in the same weight class. This shows that you don't have to gain weight to become stronger if your body structure is correct for your class.
An article by P.A Poleayev and V.S. Kopysov states that it is known that weightlifting achievements depend on the sportsman's strength potential, which is closely related to his bodyweight. They were not against gaining hypertrophy in the precise muscle groups. Yet again, it is strength potential which is closely related to the lifter's bodyweight. They were not against gaining hypertrophy in the precise muscle groups. Yet again, it is strength that limits a weightlifter's progress. As he grows into a higher weight class the strength increases, not just the technique, as it was developed in the early in his career.
I believe the constant discussion of technique is to camou age the fact that they don't know how to make a person super strong.
The former Soviet Union had special exercises and special devices to increase strength. The Westside system also has special devices such as belt squat machines, inverse hamstring devices, Reverse HypersTM, plyo swings, and a static dynamic developer. Plus, Westside has numerous special exercises and bars to improve the strongest men and women's strength.
I hope you like this book and I hope you take the word "Can't" out of your vocabulary. You will nd you indeed can raise the American ag on the Olympic stage once again. Sometimes to win, you must do the impossible, therefore, nothing is impossible.
Louie Simmons